College newspapers are rich sources of lulz and rage, and this article is no exception.  Michelle Robertson is a staff writer for UC Berkeley's newspaper, the Daily Cal.   She wrote a pompously titled article, Believing in Tolerance, where she mansplains in a truly admirable fashion why atheists are atheists, why theists are theists, and why she's smart enough to get the best of both worlds.
Because she coughs up so many absurd stereotypes about atheists – many of which I've addressed previously, such as the "You've never experienced hardship" theory of atheogenesis – I figured it'd be fun to pick it apart.  If you're out, you're sure to encounter these stereotypes, and it's important to categorize them. With a little preparation and skill, you can easily knock these patently offensive prejudices down with a friendly grin on your face.

Michelle is no stranger to intolerance.  After attending a retreat with a youth group associated with her temple, she came home excited to share her cool story about pissing near a raccoon with her bros (tell it again!).  Her bros, confused by the fact that a person who professes to be an atheist – "I do not believe in God" – would be attending a god-bothering religious retreat, immediately began persecuting her. No, wait, they asked her why she went, and then proceeded to engage in "all-out religious bashing." Just take her word for it, though; she doesn't bother to give any details.  But it was totes intolerant how they expressed views that were slightly different from her own.
STEREOTYPE 1: You're mad at your dad
After the obligatory Godwin where she implies her bros became disenchanted with religion after learning about the Holocaust in high school, she goes on to acknowledge all the pain, suffering, misery and death in the world that is the result of religion.  But she just kind of mentions it, leaves it hanging, and moves on to the theory that we're just rebelling because getting up early on Sunday and starving yourself for a month are major sources of DO NOT WANT.  Huh? What about all the good reasons you just mentioned? Eh, they don't count.
The response:if it applies to you, is to describe your upbringing as loving and supportive.  You didn't resent going to church; in fact, one of the hardest parts about admitting you no longer believe was the thought of being pushed out of that social support system.  Coming out as atheist means leaving the tribe you were raised with, facing contempt and silence from your loved ones, feeling abandoned.  That's a really hard thing to do, and it's rarely a decision undertaken lightly.
If you weren't raised religious, draw on that. Tell them how your parents encouraged you to make your own choices. You're not rebelling because there's nothing to rebel against.  You're an atheist because there's no good reason to be a theist.  The atrocities in the world aren't what make you atheist; they're what make you loud about it.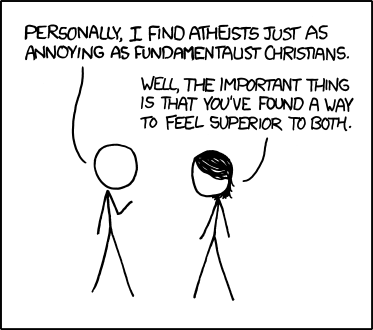 STEREOTYPE 2: Atheists are just godless Capitalists, craven materialists bent on hedonism and social Darwinism.
I know, I know. This one makes no sense.  But make a note of it, everyone: atheists invented capitalism.
Capitalism isn't just an economic model but a way of life, the American raison d'etre; why not pledge allegiance to the gods of capitalism rather than that old guy up in the clouds?
Riiiiight.  I guess she was at youth group when her history teacher covered the Cold War.
The Response: Atheism is not an economic model, but if you wanna talk capitalism, I have two words for you: Mega Churches.  If atheists were in it for the money, we're not doing a very good job.  There's really no requirement you be a ruthless capitalist to be an atheist.  As a self-proclaimed atheist, you'd think she'd realize this.  Sadly, no: she's the good atheist, the honorary theist who knows her place.  These arguments only apply to those other atheists.  She goes on to say:
One relies on the belief that a higher power controls our destinies; the other preaches that to attain the American Dream, all one needs is cunning and a little elbow grease
In other words, a belief in god necessarily implies Calvinism.  A lot of theists – Jesus included – would strongly disagree.  If you're wondering what the heck this has to do with her friends objecting to religion, you're not alone.
STEREOTYPE 3: You're just a scion of privilege whose never known suffering.
Atheist cat has never known hardship.
This is by far the most personally offensive one.  It's also one I've addressed before on Queereka. The crux of the argument is the strange idea that without religion, we'd have no answer for the suffering we have to endure. It's strange that someone would spend two paragraphs on the suffering that religion causes and then, out of the other side of her mouth, suggest religion as palliative care.
I can understand it abstractly as a obvious prejudice when it's coughed up by someone like Michelle Robertson, or this guy I met at a party once who went on about how cruel it would be to take away the promise of pie in the sky when you die.  But when it comes from someone who knows me, and who knows my story, I really do just see red.
Privileged children in comfortable homes can often afford to live by the belief in hard work over destiny, that trying one's best will eventually allow one to reap the ultimate reward. This optimistic and can-do attitude, which many young adults have been raised on as gospel, doesn't prepare the future generation for the inevitable bumps along the way.  You don't pray to God when the road is smooth, straight and visible; you pray to God when you're stuck in a pothole and your map blew away.
That's what we are, guys: privileged children in comfortable homes who aren't prepared for the bumps of life. That's whence the idiom, "the atheist work ethic!" You need youth groups and serious proximity to raccoons to truly prepare yourself for life's hardships, like pot holes! And blown away maps!  It's quite telling how much of this is pure projection that these were the best examples of life's hardships she could wretch up.
The response: There's a few strategies you can use here.  I strongly recommend starting out with a contemptuous, incredulous stare.  Let them know that this is not an argument; it's an expression of prejudice.  They have crossed the line.  But whatever you do, don't get dragged in; don't let them shift the conversation to whether you've had sufficient hardships in life for your opinions to count; don't try to argue them into accepting their own privilege.  The phrase ad hominem is frequently misused, but in this case, it's exactly what's happening, and you need to call them on it. Then, concede.
That's right: grant that you're the most privileged pampered man-child that ever lived.  Then ask: what does that have to do with whether there is a god?
Young people who have yet to experience significant adversity are quick to write off religion because they don't necessarily need to believe in a higher power.
Remember: even if this is true, it doesn't mean the atheists are wrong.  That's why it's an ad hominem attack; who I am as a person has nothing to do with whether my argument is true.  Remember that, folks.
Of course, it gets worse:
Young adults today aren't prepared to fail, but if and when they do — an outcome that seems inevitable in today's job market — they likely will want a supernatural, superhuman force to believe in. People characteristically turn to religion after experiencing death or catastrophe, so for young adults who have thus far not experienced hardship, religion doesn't seem necessary.
Remember: this person claims to be an atheist.   Does that mean she hasn't experienced hardship, death or catastrophe?  If so, does that mean she's wrong, or is it only atheists that need to go through hardship for their opinions to count?  If she has, the next question to ask is why it is that she doesn't need god to get through life's hardships, but the masses and those bad other atheists who aren't here will need their opiate eventually.
Will believing in a supernatural, superhuman force get me a job? Will joining a church bring a dead loved one back to life?
It's worth noting I left Christianity after I asked God to let my grandmother live (John 14:13; Matthew 18:19 ). Oh wait, I forgot; I've never experienced a death of a loved one. I'm an ATHEIST! My mistake!
What does it say about religion that people turn to it at times of extreme emotional vulnerability?
And what does any of this have to do with tolerance?

People have turned to religion throughout history because they sought an explanation for their miserable lives, which no amount of hard work and diligence could change.
People have had misery inflicted upon them throughout history because they sought an explanation for their miserable lives, and believed the first salesman in a fancy frock who promised them the moon for 10% of their income annually.  Just sayin'.
STEREOTYPE 4: I'm the exception that proves the rule!
Ok, this isn't really a stereotype, but more a phenomenon that happens in any social justice movement.  A member of the class in question will try to gain privileges for themselves at the expense of the larger class by asserting that the stereotypes are true, but they are the lone exception.   Feminism saw the Phyllis Schlaflies of the world building high-profile careers on the argument that women should stay home and grow heirs for a man, for instance.
Michelle is no different, as demonstrated by the last paragraph is a clusterfuck of contradiction.
Religion isn't about submitting oneself to the will of the gods.
Yet, three paragraphs earlier:
Religion and capitalism, in their purest forms, aren't as compatible as the Tea Party says they are: One relies on the belief that a higher power controls our destinies;the other preaches that to attain the American Dream, all one needs is cunning and a little elbow grease.
Hmmm.
HMMMMMM.
Nice compartments you've got in your brain, there.
The Response: Call them out on their hypocrisy and their condescension (condescending is another often misused term, but it applies here; it means to affect congeniality to cover a sense of superiority. She doesn't believe in God, but she's willing to condescend to go on youth group retreats based around the belief in god to get the benefits of the community that goes along with it). Ask whether they got their psychic powers through a spider bite. Be humorous, but don't mince words. Say what you mean, but treat the very idea that you're just a privileged, rebellious child with the contempt and scorn it deserves. Don't forget to laugh out loud.
She closes with:
being religious is nothing to be ashamed of.
[Citation Needed]